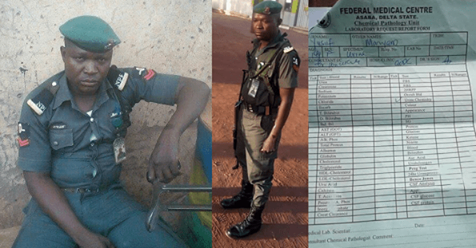 Facebook user Ismaila Gambo Arabo just shared this heartbreaking story;
ABDUCTED AND RAPED FOR SIX DAYS BY A ROUGE NIGERIAN POLICE MAN.
Maryam Yusuf was just 14years old, an indigene of Kano state living with her parents in Asaba, D

elta state. She does attend Islamic school in cable area known as Hausa quarters in Asaba, Delta state.
Maryam was sent by her father to Onitsha form Asaba on 14th of October 2017 to buy round cotton but unlucky for her she lost the money while on transit. During her efforts to identify the vehicle she boarded, while standing by the road side, she was approached by one corporal Barau Garba (mopol) with service number 275601 from MOPOL 7 Sokoto state who was on a special duty in Anambra, his team were attached with OKPOKO police divisional headquarters, Onitsha.
The rouge police corporal approached the teenage girl asking her of what happened, as the small girl explained to him how she lost her money on transit and her need to go back home, the police man Barau Garba deceived her by asking her to join him on his motorcycle so that he can take her back home