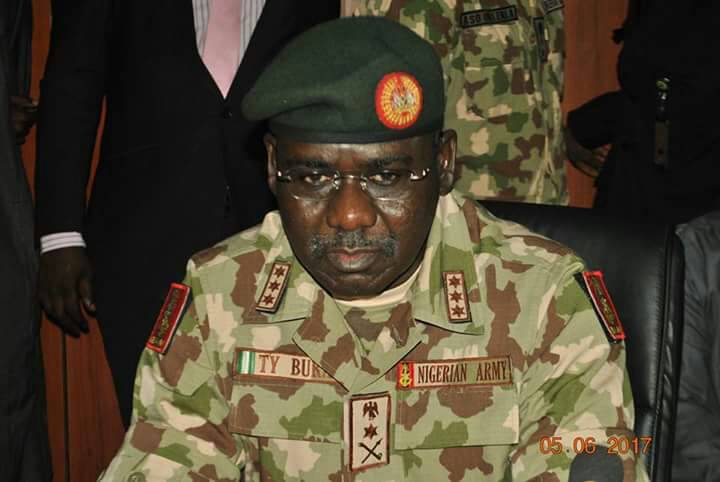 It's now official — at least in military circles — the organisation led by Nnamdi Kanu is a terror group.
John Enenche, the director, defence information, said on Friday that the claim by Indigenous Peoples of Biafra (IPOB) that it is non-violent is not true "after due professional analysis and recent developments".
He listed what constitutes "terrorism" as the formation of a Biafra secret service, setting up of Biafra national guard, unauthorised blocking of public access roads and extortion of money from innocent civilians at illegal road blocks.
To support the military's position, he said IPOB used weapons (stones, molotov cocktails, machetes and broken bottles, among others) on a patrol on September 10, 2017.
"From the foregoing, the Armed Forces of Nigeria wish to confirm to the general public that IPOB from all intent, plan and purpose as analysed, is a militant terrorist organisation," he said.
BUT 24 HOURS AGO…
Enenche's claims sharply contrasted with the press release issued by the army on Thursday — or 24 hours earlier — according to an analysis done by TheCable team.
In the statement, reproduced below, the army said: "While they are yet to carry arms openly in their activities, it is very likely that they would employ the use of arms in the days ahead."
Did IPOB take delivery of arms between Thursday and Friday? Or were they declared terrorists because of what they may do?
It should be noted, though, that the army constantly used the word "insurgency" to describe IPOB's activities in the press statement.
Below is the full text of the statement.
UPDATE ON IPOB ACTIVITIES IN 82 DIV AOR AS AT 121800A SEP 17.
Sequel to the pronouncement by the NA that Ex Egwu Eke would commence in the SE on 15 Sep 17 and the subsequent movement of military hardware including AFVs and troops to the SE, IPOB agitators became apprehensive. They interpreted the Exercise as a military invasion of the SE. Accordingly, they devised a strategy to frustrate the NA by attacking troops with stones, bottles, sticks and other dangerous missiles. The attack on troops on 11 Sep 17 leading to injuries on a soldier and a civilian at Umuahia is instructive. Consequently upon IPOB attacks on troops, IPOB propaganda Machinery using the media would distort actual occurrences and portray a negative image of the NA claiming that the NA have killed several IPOB members and injured several others.
The IPOB leader, Nnamdi Kanu based on the false propaganda that troops had killed some of their members instigated others to embark on widespread acts of insurgency and total breakdown of law and order. He urged his supporters who are mostly the downtrodden to burn down the country if he is arrested. He also demanded the immediate withdrawal of troops from the SE.
Accordingly, the activities of IPOB on 12 Sep 17 extended to ABA, a densely populated area. IPOB members acting on the instructions of Nnamdi Kanu embarked on widespread breakdown of law and order. They set tyres on fire, burnt some vehicles and reported killed some northerners (number yet to be ascertained). Northerners houses, shops and goods were also targeted. They also threw missiles like bottles and stones on troops. Their activities caused chaos and massive traffic jam in Aba. Northerners had to be evacuated to a safe place by troops to avoid being killed.
Own assessment of the situation suggest that IPOB intends to frustrate troops activities and trigger a confrontation which they will magnify as an army invasion especially through the social media. Their objective is to attract local and international sympathy with a view to intimidating the NA to cancel the forthcoming Ex Egwu Eke. This is to enable them consolidate on their insurgent activities, propagate hate speeches, have freedom of action, distribute subversive materials, have a stronghold, intensify their rallies and instigate locals to join their insurgency. They also appear resolute to implement their threat to disrupt the forthcoming Nov 18 Election in Anambra State. Ironically the state governors are playing politics with the situation and insisting that they can deal with the situation themselves. It is instructive however that the Governor of Abia state on 12 Sep 17 declared a curfew in Aba from 6pm to 6am.
Meanwhile, it is projected that IPOB activities especially riots, attacks on troops and false media propaganda would increase in the days ahead. While they are yet to carry arms openly in their activities, it is very likely that they would employ the use of arms in the days ahead.
In view of the foregoing, troops must remain resolute in neutralizing this emerging and dangerous threat. Troops must abide with the rules of engagement, adhere to established code of conduct, respect human rights laws and remain professional. Troops must not be intimidated but sustain the tempo in bringing an end to this menace. Ex Egwu Eke should continue as planned and efforts must be sustained in winning the media war.
It is imperative to highlight also that this threat has been brewing for a long time and is only manifesting. Therefore it is essential that the threat is neutralized now or we would only be postponing the evil day. It is bound to escalate at some point. Troops must at this point avoid skeletal deployments and should be in strength at all time. Targeting and arresting of key leaders of the insurgents in collaboration with other security agencies is essential. Protection of KPs and VPs is also imperative. Efforts must also be sustained to prevent reprisal attacks in other parts of the country. All formations would therefore need to be proactive and device measures in preventing reprisals attacks in their respective AOR. National Orientation Agency must also step up media campaign to enlighten the populace of the implications of allowing IPOB threat to escalate. Furthermore political imperatives especially Governors from the SE would need to show resolve and political will in tackling this growing insurgency.